Jewel Blade News
Jewel Blade showcase their manufacturing capabilities at BAU 2023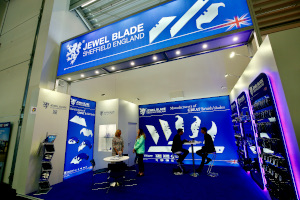 After a four year break the highly anticipated return of the World's Leading Trade Fair for Architecture, Materials and Systems did not disappoint. BAU 2023 was visited by approximately 190,000 visitors with 2,260 Exhibitors utilising the biggest construction and architecture exhibition as a platform to present their innovations, trends, and sustainable solutions in the construction industry.
Established for over 90 years, the Sheffield based blade manufacturer Jewel Blade showcased their consistently high-quality trimming knife blades in Munich, Germany amongst trade professionals from the construction sector. Jewel Blade's manufacturing facility of 4680m² sees them produce approximately 160 million GREAT British blades per year, whilst offering various packaging solutions ranging from bulk options for industry use, to sales enhancing retail packaging options designed to meet your business, product environment, brand image and customer focused requirements.
To view the Final Report please visit BAU 2023.
For more information about Jewel Blade's extensive consistent quality assured product range, including applications, sales enhancing packaging options, technical advice and sales enquiries please contact us on +44 (0)114 221 7000 or email enquiries@jewelblade.com
BAU 2025 will revert to its usual position in the Calendar, taking place from 13th - 18th January 2025